Maps
Here you will find maps of where our food and beverage units, car parks and our hydration stations are located throughout Terminal 1 and 2.
Luggage Facilities
All the luggage facilities you might need at Dublin Airport including left luggage, luggage storage, bag wrapping and luggage trollies.
Wi-Fi & Printing Services
Dublin Airport is a Wi-Fi zone, offering free wireless broadband services throughout both Terminals. Here you will find details on how to connect to this service as well as the printing services on offer.
Bank & Bureau De Change
Pre-order your foreign currency for collection at the airport or find out more about the bank facilities available and the location of the foreign exchange outlets in Terminals 1 and 2.
Medical Aid & Pharmacy
Here you can find out more about medical aid available at Dublin Airport as well as the location of the pharmacy in the Airport.
Multi-Faith Room & Church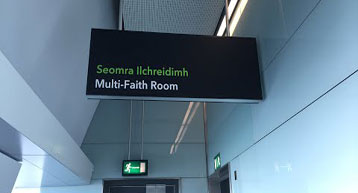 Here you will find out more information about Dublin Airport's multi-faith prayer room and church.
Additional Services
Here you will find out more information about other services available at Dublin Airport.