VAT Refunds Tax Free Shopping
Value - added tax refund information & locations Dublin Airport
As of January 2021, visitors from Great Britain can also avail of Tax Free Shopping in Ireland.
For passengers who have availed of Tax Free Shopping in Ireland, there are numerous Value-Added Tax Refund Kiosks across Terminals 1 and 2 – please see information below.

Planet Payment
Location:
Terminal 2, airside departures, just beside the Irish Memories store.
Terminal 1, airside, after Security, at the 300 gates, just past WH Smith, and opposite Wrights of Howth shop.
Opening Hours:
07.00 – 16.00 Monday to Sunday in Terminals 1 and 2.
Contact:
Planet Customer Services tel: +353 1 513 3800
Helpful advice:
Please see the Tax Refund envelope and instructions below for Dublin Airport and other participating airports in Ireland.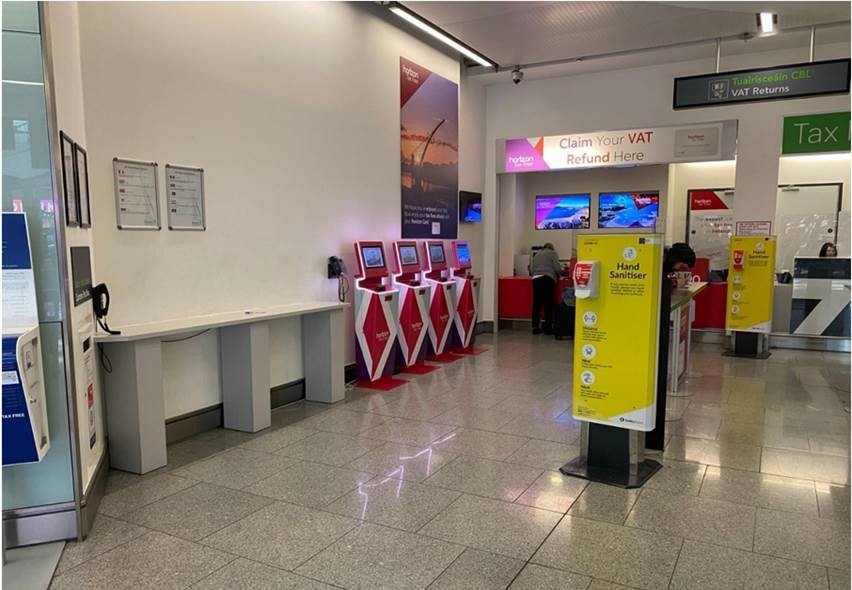 Other tax refund operators
FexCo have kiosks in T1 that operate 24/7 and the area has staff to help from 08.00 to 12.00 . In T2, staff are on hand 07.30 to 15.30 daily, with kiosks also in operation 24/7. Please see
Tax Free Shopping Ireland | VAT Claims Processing | Fexco
Global Blue also operate out of Dublin Airport. Please see
Shopping guide, Guide to shopping abroad - Global Blue official site | Global Blue
for information on how to avail of Tax Free Shopping and Tax Refunds.