Travelling with Autism
At Dublin Airport, we are committed to helping passengers who may require additional support and assistance.
Important Flyer wristband/lanyard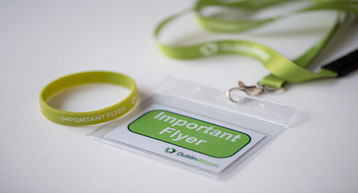 We can provide a wristband or lanyard for travelling through Dublin Airport for passengers with Autism.
It can be shown to any Dublin Airport staff member (Customer Care and Security Screening for example) if assistance is required at security, passport control or any area where you may encounter queues or crowds.
How you are getting to the airport
Why you are going there e.g going on holiday, visiting a relative
Where to get help if needed
Checking-in bags, suitcases, etc.(conveyor belt)
Going through security and the possibility of being searched
Finding the boarding gates and piers and things you can do while you are waiting (shopping, using the internet, looking at aircraft, getting something to eat)
Waiting to board the aircraft
Boarding the aircraft
It is important to capture in the story how the airport will be experienced - e.g noise, crowds, queuing etc.
Plan your trip a number of weeks in advance
Place symbols to represent your trip on the individual's calendar. Talk about the trip in the weeks/days leading up to the trip
Prepare a scrapbook of pictures to represent the holiday that is being taken
Holiday scrapbook should contain pictures of the airport, airplanes and of the location the individual will be travelling to.This scrapbook can potentially help by:
Preparing the individual for the trip. For example, acts as a conversation focus for the individual with others prior to the trip.
Acts as a visual support at the airport, helping the individual to keep focused while moving through the airport. Showing pictures of the airport's services and outlets.
Motivate the individual to keep to the schedule and the rules that are established for moving through the airport
For example, the individual can stop at various times while travelling through the airport to look at pictures of the trip they are taking and some of the possible outings that you will be doing as a family when they arrive at the destination.
Bring back-pack with items for the person
Snack, (remember that you cannot bring fluids through security unless they are in containers of 100ml or less, food & beverage facilities are available Airside once you pass through security)
Fidget toys, iPod, portable DVD player, book, magazine, favourite small toy, Nintendo (remember to check what you can bring. Make sure that a favourite toy can not be mistaken for knife/gun)
Leave plenty of time to get through the airport especially during holiday season
If you require assistance at any stage with your journey through Dublin Airport, assistance can be provided from Dublin Airport Customer Service Agents wearing pink t-shirts.
OCS (reduced mobility service provider) can if needed assist you in your journey throughout the airport, they offer additional assistance with travelling through the airport from arrival at the airport right through to boarding of the aircraft. It is strongly advisable that this service is booked in advance through the airline/handling agent as there can on occasion be long delays if only requested when you arrive at the airport
There are a number of internet stations that might be of interest to your child that will help break up the journey through the airport
Pack sweets for airplane take-off (stop ears blocking)
Ensure all visual supports are packed for trip
To request a wristband or lanyard, please enter your details in the form below:
If are requesting an Important Flyer wristband or lanyard, please be advised you must provide us with a short note from your GP confirming that the person has a diagnosis of autism.
This can be attached to the form below, or posted to us: Dublin Airport, Reduced Mobility Co-ordinator, Level 5, Terminal 1, Dublin Airport, Co Dublin. All queries can be sent to the Reduced Mobility Co-ordinator, Lorraine Kearney, by emailing prm@daa.ie.
For information on how to request a wristband or lanyard please contact the Reduced Mobility Co-ordinator, Lorraine Kearney, by emailing prm@daa.ie.
*Please note that due to high demand, we can only issue wristbands and lanyards to people who have confirmed travel arrangements. Applications will be processed in order of travel date; we aim to issue wristbands/lanyards 2 weeks (14 days) before travel.
We recommend intending passengers submit applications 40 to 60 days before the date of travel to ensure timely processing and dispatch. Applications received less than 14 days ahead of the travel date will be processed as soon as possible, but receipt of wristbands/lanyards for these applications cannot be guaranteed in time for travel.
Please note assistance can also be provided by our assistance service provider OCS: OCS Main Office +353 1 944 0341 (8am - 4pm)
(If accessing this form on a mobile device, please scroll down to view and complete all the required forms.)